Everyone loves good birthday parties. The atmosphere filled with laughter, kids running around, cake, and singing. "Happy birthday to you! Happy birthday to you…" Happy birthday to all parents, because the dreaded sugar crash post-party can be a thing of the past.
Healthy Food for Birthday Parties
With the world moving towards a healthier lifestyle and healthier eating, why not start with your little one(s) at home? Teaching children from a young age that healthy, balanced eating can be fun and tasty not only benefits them physically and mentally, but it also paves their nutritional journey for the future.  It is important to note that healthy eating does not mean it's only broccoli and carrot sticks from here on out. 'Fun' foods are allowed – in moderation.
Know your food groups to plan the perfect party menu.
Food groups
A healthy balanced diet consists of go, glow, and grow foods. Go foods are starches, glow foods are fruits and vegetables and grow foods are proteins.
Go foods, fuel our bodies so we can 'go' and be active. These foods are important for physical and mental energy. Including wholegrain bread, pasta, crackers, potatoes, corn, or porridge in every meal will ensure sufficient energy for the whole day.
Glow foods, or fruits and vegetables, are packed full of vitamins, minerals, and fibre. Vitamins and minerals keep the immune system active for fighting off viruses and bugs. The fibre keeps the gut regular which is necessary for getting rid of toxins and by-products the body makes. Having a variety of fruits and/or veg with every meal not only creates a rainbow plate but provides the body with a variety of vitamins and minerals.
Grow foods, also known as proteins and dairy, are important for growth. The body uses protein to build and repair muscles to help the body move with ease and dairy is necessary for strong teeth and bones. All of these keep the body growing as it should. Adding proteins and dairy, such as meat, fish, eggs, yoghurt milk, or cheese to meals will ensure satiety and no unnecessary snacking.
The rest of the food groups, fats, and sugars are also important for the body, although they should be consumed in moderation. Healthy fats, such as avocado, nuts and seeds, nut butter, and plant oils are full of omega fatty acids which are important for brain health and memory.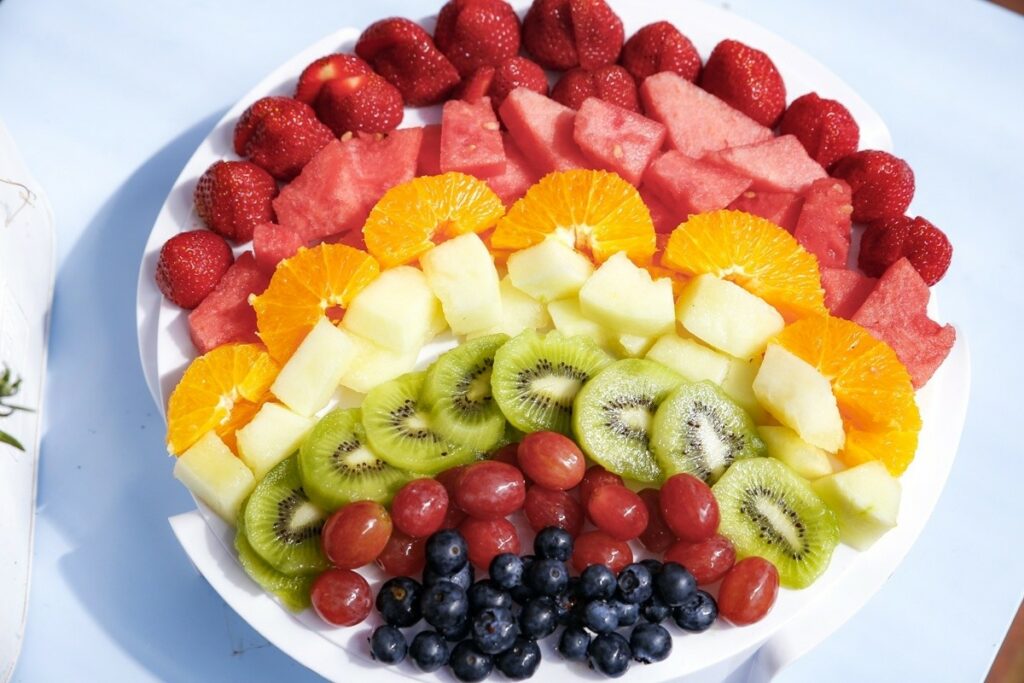 Try these swap-outs for Birthday Parties
Since we're talking about birthday parties, healthy eating can become a tricky situation, but it's completely doable and it can be easy! By using go, glow, and grow foods as a basis for all snacks and foods, you and your guests are sorted. The smallest of changes can make the biggest differences.
Swap outs:
crisps with homemade popcorn,
cold drinks with flavoured sparkling water, or a fruit smoothie
jelly sweets with some raisins or dried cranberries.
processed foods with veggie sticks and a hummus dip, fruit skewers, cheese cubes, homemade meatballs, mini sausages, mini burgers, sausage rolls, etc.
ice cream with frozen yoghurt ice lollies with fruits or chocolate chips in Summer
heating those sausage rolls, meatballs, and mini burgers will add a little warmth to the party in Winter
These suggestions will keep little tummies full and provide them with sufficient energy to keep running around. Don't get me wrong, chocolates, sweets, and crisps can be on the snack table, but keeping these in small portions will help avoid that sugar rush and crash later.
Birthday Cakes, Party Packs, Allergies and More Tips
What is a birthday party without cake? Cupcakes work like a charm for parties. The age group of your guests will determine the size of the cupcakes.
Let's not forget the party packs – adding some popcorn, trail mix with chocolate chips or yoghurt drops, a mini fruit roll-up, and a mini chocolate makes this pack yummy and healthy.
Birthday parties can be healthy and fun and getting your kids involved in the process will excite them even more. Having the children help with the baking of the cupcakes or popping of the popcorn, packing out the snacks, or packing the party packs keeps them interested and engaged and encourages active learning about nutrition and balanced, healthy eating.
Moms/Dads, please keep in mind that some of your guests might have allergies and/or food intolerances. Keep a list of these to avoid any unnecessary excitement and possible hospital visits. Adding a request for parents to report any allergies when RSVPing can simplify this process.
Having swapped out some foods and snacks and ensuring that sugar rush and crash will not happen, you can also be excited about that birthday party.
Happy partying mom and/or dad, you and your child are well taken care of.
For nutrition assessment and counselling that can assist with healthy eating habits and lifestyle changes, contact Ingrid Strydom today!
Note: If you enjoyed this article, and would like to stay updated with more, you can: