Dreading packing lunch boxes, again? And, worse yet, unpacking them as they come back exactly the way they left in the morning?  Let's be honest, packing a lunch box is not easy, in fact, it can be seen as a form of art.
Sure, the first week or two might be great – new ideas, new and different foods, a new sense of motivation… but then the rest of the weeks come rolling along and suddenly there's no more time for 'Instagram-able' lunch boxes, the kids don't like a very specific something anymore and work gets over-bearing, so motivation goes out of the window. Don't beat yourself up, it's normal.
Easy lunch box guidelines
Luckily, I have put together a 'guide' to make packing those lunch boxes easier and to keep your creative juices flowing for packing that lunch box.
I'm sure by now you know about 'go', 'glow' and 'grow' foods:
'Go' foods are carbohydrates/starches that help to supply your body and brain with enough energy to keep you moving and thinking for the whole day. These foods include wholegrains, potatoes, sweet potatoes and many others.
'Glow' foods are vitamins and minerals that make your body glow from the inside out. It keeps your immune system in tip-top shape. A variety of fruit and vegetables are always encouraged to ensure all vitamins and minerals are consumed.
'Grow' foods are proteins and dairy products. These foods keep your muscles and bones growing and strengthen them during activities/exercise. Dairy products also keep your teeth healthy.
The food groups that I haven't mentioned are fats and sugars. Healthy fats, such as plant oils, nuts, avocados, etc. are essential in meals to help with satiety. Sugars should be consumed sparingly.
A healthy, balanced lunch box contains all of the abovementioned food groups to ensure that your kiddie has enough energy to run around during break and after school and focus in class. It will help keep your kiddie protected from any virus that could be lurking in the air. Let's look at some options for 'go' foods:
Brown/wholewheat/low-GI bread
Wholegrain wraps
Wholegrain pasta
Brown pita breads
Brown sandwich squares/-thins
Brown rice
Some options for 'glow' foods will be:
Fresh fruit: whole, peeled, and/or cut
Fresh vegetables: whole, peeled and/or cut
Small fruit roll-ups/dried fruit
Fruit juice
'Grow' foods will be:
Eggs
Meat, poultry, fish
Silverside beef/ham*
Legumes
Cheese
Milk
Yoghurt
Lean biltong
* Parents, please be careful when buying these items. We want to choose foods as close to the 'real thing' as possible. Foods like polony, viennas and cheese grillers are highly processed and very high in salt. These can be given as a treat every now and then, but not every day.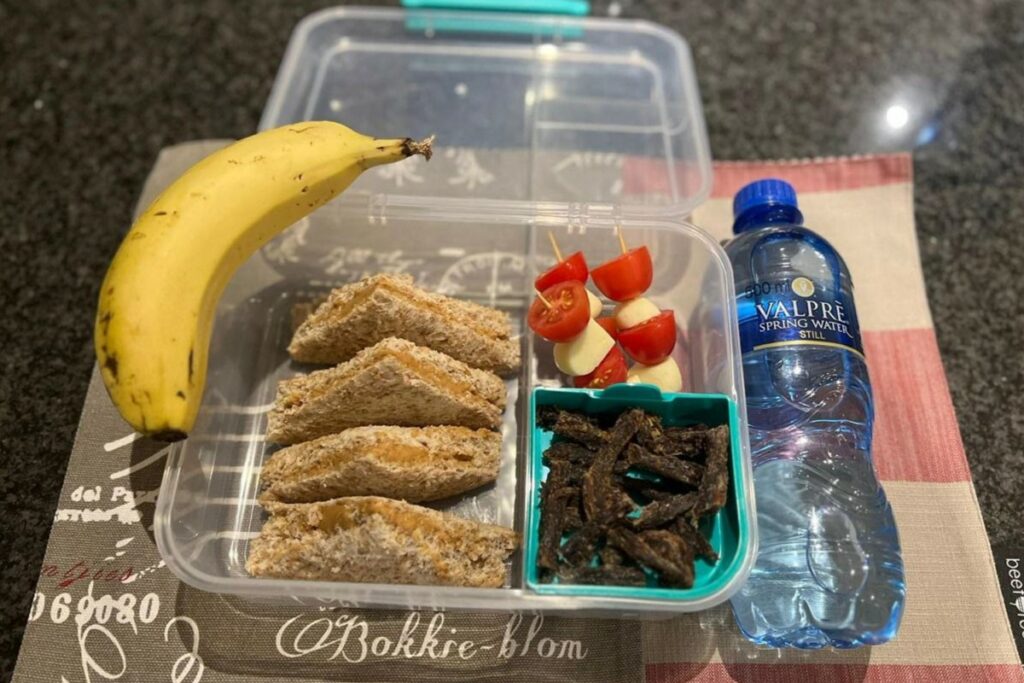 Lets build your lunch boxes!
Now I've listed a bunch of foods, but what does a lunch box actually look like? Let's build a few:
Peanut butter sandwich, banana, vegetable and cheese skewers, biltong bites and water.
 Brown pita with cottage cheese as a spread and some leftover meat, vegetable sticks, yoghurt, mixed berries, and water.
Wholegrain wrap with hummus as a spread, vegetables and silverside beef, yoghurt, apple, mixed nuts, and water.
Yes, I know, these are 'Instagram-able' lunch boxes, so let's simplify them.
A sandwich is always an easy go-to. If you're using brown, whole-wheat or low-GI bread you already have your 'go'-food.
Let's add a filling – ham and cheese ('grow' foods); cheese and tomato ('grow' and 'glow' food); peanut butter (healthy fat with a little bit of 'grow' food); plain cheese ('grow' food).
Let's add some snacks to those lunch boxes – fresh fruit, vegetable sticks, ham slices, small cheese, peanuts, yoghurt, popcorn, etc. By now you've definitely met your quota for 'go', 'glow' and 'grow' foods, and with good coverage of the different food groups.
How much is enough?
The tricky part is knowing how much your child eats, how long they are at school, and if they have any extracurricular activities after school. These factors will determine how much food to pack as well as how much of which food (i.e., sports after school will require extra 'go' and 'grow' foods).
The main goal is for your child to eat something every chance they get, for example, after a good breakfast, the first break will only be a snack, the second break will be a bigger meal or a sandwich and after school will be a snack again. If the amount of food and lunch boxes becomes too much for your child, colour-code them, for instance, a red lunch box is for school and a blue lunch box is for after-school/activities.
Water, always!
The most important component of any lunch box is the water. Staying hydrated is essential for your body to function optimally. Water is brain fuel; without it, your child cannot focus in class. Being dehydrated will affect them during playtime and/or sport as well. They will start feeling lethargic, possibly slightly nauseous, and light-headed. Water is a must, always.
Lunch boxes for cold days
Now, we are moving into winter and that might change some things regarding lunch boxes. If your child has no problem with a sandwich for lunch, roll with it, but if they prefer something that is a little warmer in temperature, soup in a flask or travel mug will work well. Just make sure it seals tightly, we don't want any spills. Tea, without sugar, can also be included in a flask, this will contribute to their fluid intake, but water is still the best.
These guidelines are for making your child's school lunch as yummy as possible. If you still run out of time in the mornings, have your child help you prepare and pack the lunch box – this way they also get to choose what they want to eat which hopefully means empty lunch boxes by the end of the day.
From now on, lunch box nightmares should be a thing of the past. You can finally get some rest knowing that your child is eating healthy and that their tummies are full.
Note: If you enjoyed this article, and would like to stay updated with more, you can: