This is an extract from an  article written for The Conversation by  Douglas Reed  Associate Professor of Immunology, University of Pittsburgh.
Earlier this month the Government amended level 3 regulations making it possible for churches, theatres, movie houses and casinos to reopen their doors in June. These are all places where groups of people will gather in larger numbers than has been allowed previously allowed, a source of huge concern.  We have chosen to publish this extract to help everyone make their own decisions. In this article Reed makes suggestions about measures people can take to prevent the spread of the virus at these gatherings.
Extract from : People are getting sick from coronavirus spreading through the air – and that's a big challenge for reopening
Perhaps most striking, especially for myself as we contemplate how to reopen our church, is the example of the church choir in Skagit County, Washington. A single individual singing at a choir practice infected 52 other people. Singing and loud vocalization in general can produce a lot of aerosols, and evidence shows that some people are super-emitters of aerosols even during normal speech. It's likely that some infections in this incident occurred from droplets or direct contact, but the fact that one person was able to infect so many people strongly suggests that airborne transmission was the driving factor in this outbreak.
A paper published just last week compared the success of mitigation measures – like social distancing or mask wearing – to try and determine how the virus is spreading. The authors concluded that aerosol transmission was the dominant route. This conclusion is hotly debated in the scientific community, but this study and others do show the effectiveness of masks in slowing the spread of COVID-19.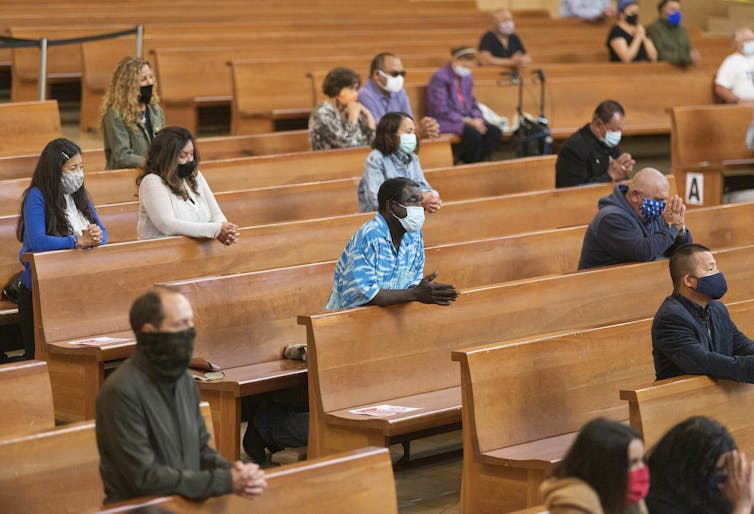 What does this mean for reopening and for individuals?
The evidence strongly suggests that airborne transmission happens easily and is likely a significant driver of this pandemic. It must be taken seriously as people begin to venture back out into the world.
Thankfully, there is an easy, if not perfect way you can reduce airborne transmission: masks. Since people can spread the virus when they are pre-symptomatic or asymptomatic, universal mask wearing is a very effective, low-cost way to slow down the pandemic.
Since the primary risk is indoors, increasing ventilation rates and not recirculating air inside buildings would remove the virus from the indoor environment faster.
My church has decided to reopen, but we are only planning to allow limited numbers of people in the church and spreading them throughout the sanctuary to maintain social distancing. And at least for now, everyone is required to wear masks. Especially while singing.